Skin tightening is a procedure that the world has been utterly fascinated with over the years. More than 14 million people visit plastic surgeons each year to pay for skin tightening work and other skin manipulations. Radio frequency skin tightening is something that has been around for about 100 years but has not been widely used for that long because of the popularity of other methods.
What Is Radio Frequency Skin Tightening?
Radio frequency skin tightening is a process that uses the heat that comes from RF energy to penetrate the layers of the skin. Experts have determined that this process causes the skin to produce increased levels of collagen over time, and that collagen production eliminates skin wrinkles. Collagen is the element that gives different areas of the skin their plumpness. The RF treatments are said to have the ability to improve the elasticity in patient's skin and decrease the appearance of unfavorable elements like lines and wrinkles.
What Areas of the Body Can Receive the Treatment?
A patient can get RF treatment on a wide variety of body parts. Some of the most common areas in which people receive it are the neck, arms, knees, stomach and thighs. The number of treatments that a patient needs before he or she sees results varies between four and 12. Some patients show slight results after the first treatment, and other patients take a little while longer.
Try Some Puffs For FREE
We're Giving Makeup Puffs away for FREE to all of our subscribers! What are you waiting for?
How Does RF Skin Tightening Work?
There are two types of radio frequency skin tightening that one can get: in-office tightening and at-home tightening. A variety of devices is available for consumer use at home. However, hiring a professional to do the work is probably the best option. That way, the patient has a little bit of reassurance if anything goes wrong. Ideally, there will be no side effects or no imperfect processes. Realistically, the procedure may not go quite as well as planned. The person can maximize the chances of a smooth operation by having a certified medical specialist perform it.
When specialists perform the work, they draw a grid on the area to which they will apply the heat. They then spend a certain amount of time applying the heat from the device to each section. They make sure that they treat each section equally. The patient then returns for subsequent treatments. As stated before, some patients notice results right away while others may take many more additional treatments before they truly see results.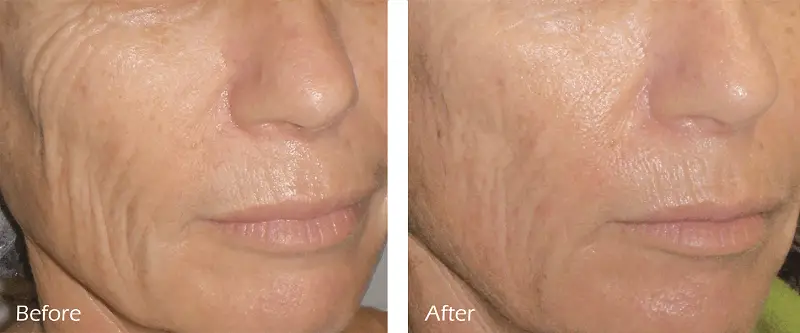 The Pros of Radio Frequency Skin Tightening
Many positives exist to radio frequency skin tightening. People with thin skin or only minimal wrinkling can benefit greatly from its effects.
With the procedure, women with cellulitis can finally solve this problem. The heat diminishes the fatty tissues, leaving the cellulitis-free. The same goes for fatty deposits, RF even reaching the fatty deposits beneath the superficial layers of the skin.
People who have undergone a liposuction and are left with saggy or lumpy skin can solve this issue with radio frequency skin tightening. This procedure can give the skin a smooth finish, ensuring a well-toned area.
What's more, the procedure only takes 30 to 60 seconds each time.
The Cons of Radio Frequency Skin Tightening
Pain is one of the main cons associated with RF skin tightening. However, while the process does involve some pain, it is not as much as it used to involve.
Patients may also experience some redness, swelling or blisters.
Another con of this treatment is that it is not for everyone and may not be effective for everyone. For example, it is difficult for this treatment to thoroughly restore stretch marks from pregnancy and advanced stages of wrinkling. Prospects must understand the limitations that the procedure may have in their unique situations.
Benefits of RF Skin Tightening Over Other Methods

This procedure provides many benefits to those who are eligible for it. One of the advantages that it has over other types of treatment is the cost advantage. RF patients do not have to spend thousands of dollars to get help.
RF treatment also has a shorter recovery time. A patient may start feeling much better in a few days whereas some facelift patients may not heal for weeks or months. The shortened recovery time helps to preserve the patient's finances.
RF is better for potential mishaps, as well. A patient can avoid getting a second treatment if the first one produces extreme side effects or otherwise goes wrong. Surgical procedures that involve cutting the skin are permanent and very difficult to correct.
Disadvantage Over Other Methods
The disadvantage of RF over other methods have to do with its effectiveness. An RF client does not have the same kind of certainty about its effectiveness than other patients do. Another disadvantage of RF is that it may cause the treated area to sink. Some patients have complained of sinking skin, but this complaint is minimal as compared to the complaints that come from other procedures. The RF treatment is a generally safe procedure when experts measure it against other processes.
How to Choose the Right Provider
Any time a person wants to do a more or less invasive skin procedure, that person must be sure to conduct a thorough investigation of the providers. A reputable provider must be able to provide the credentials that show that he or she is qualified to do the job. The specialist should also have some visual examples to show you so that you can see what that person can accomplish through the procedures.
Talk to other people who have gotten work done by that person if it is at all possible. The person should also get between two and three price quotes to ensure that he or she gets the best price option possible.
How to Start Tightening Skin Today
An interested person can start the process of getting radio frequency skin tightening today. The first step is contacting a provider and scheduling an initial consultation. The initial consultation is an in-depth discussion with a specialist about the process of providing radio frequency skin tightening. The prospect will have the opportunity to ask the specialist any question that may arise about the procedure.
After the consultation, the prospective client should be able to make an informed decision about whether or not to go through the process. Treatments can start shortly after that person makes the decision to jump on board.
If you decide to go through with the procedure, do let us know how it worked out. Are you happy with the result? If you have further advice to give to other readers, we'd love to hear what you think.