Hormonal acne is a type of acne that is related to the fluctuation of hormones in the body. It can happen at any age and is common among adults. Men and women alike can suffer from the skin condition, but women's natural fluctuation of hormones makes them more susceptible.
If you are one of many who suffer from hormonal acne, there could be help for you. There are a variety of hormonal acne treatments available to adults, and we've compiled a list of the most effective. Read further to see which treatment option is best for you.
1. Probiotic Acne Treatment Cleanser by GlowBiotics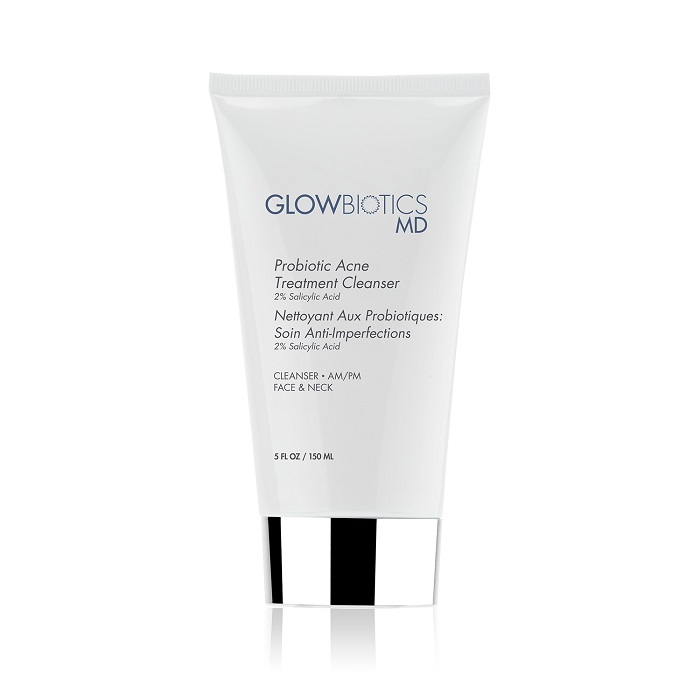 This probiotic cleanser is extremely effective in controlling the microbiome in the skin. The Probiotic Acne Treatment Cleanser is a concentrated gel cleanser that works to balance your skin's pH level and reduce the bacteria in your skin that causes acne.
Pros
The cleanser contains salicylic acid, which helps exfoliate your skin, unclog pores, and fight bacteria. It provides your skin with a cooling, relieving effect that is great for razor burn or ingrown hairs.
The Probiotic Acne Treatment Cleanser can be used on any part of the body where breakouts occur. The texture is incredibly silky and oil-free.
Cons
For the treatment to do its magic, you'll need to use it twice a day for at least 4 weeks before you notice a difference.
Salicylic acid works well on most skin types, but some people may have poor/allergic reactions to it. Test on a small area of skin before use.
2. Positively Clear Acne Clearing Blue Light by Tria
If you're looking for more long-lasting hormonal acne treatment, you may try investing in a blue-light therapy. Light therapies that were only available by your dermatologist can now be purchased over-the-counter. The Positively Clear Acne Clearing Blue Light by Tria uses a low-grade, but powerful blue light to get rid of the gross bacteria that causes acne to begin with.
Pros
This product is cleared by the FDA for its effectiveness and safety, since it can help improve hormonal acne in all skin types.
You can choose to use this on only small, affected areas of your body, or use it on the entire face; the choice is yours.
Cons
The directions state that you must use the blue-light treatment for at least 5 minutes each day. While 5 minutes does not seem like a lot, it can put a wrench in your already-busy day.
3. Alpha Beta Extra Strength Daily Peel by Dr. Dennis Gross
Chemical peels can help to remove dead skin, dirt, and oil. The Alpha Beta Extra Strength Daily Peel can be done daily as part of your skincare routine to prep your pores and the rest of your skin to receive other treatments better.
Pros
Dr. Gross designed this hormonal acne treatment with 2 steps: one which exfoliates and cleans, and one which controls your skins acid and provides it with important chemicals to prevent future breakouts.
Using the 2-step treatment doesn't involve any rinsing or special instructions. Simply apply the first step on your skin, then continue with the second.
Cons
If you are concerned about your budget, this may not be the best option. The 2-step process should be done daily, so the cost of a 30-day supply may be more expensive than other options on the list.
If you use another topical solution in addition to the peel, be careful not to use acidic products. They can be too harsh on your skin after using the chemical peel.
4. Blemish Touch Stick by Desert Essence
Tea tree oil is known for its anti-inflammatory properties, and it can help eliminate most of the bacteria strains that cause acne. This powerful ingredient takes centerstage in this Blemish Touch Stick by Desert Essence, which is a gentle, more natural approach to hormonal acne treatments.
Pros
The main ingredients of this product include tea tree oil, lavender, wintergreen, and chamomile. It contains no harsh chemicals and is gluten-free.
The stick is easy-to-use and is designed to be non-oily and non-drying, so it's great for most skin-types.
Cons
Even though it's super easy-to-use and gentle, you may need to apply in on targeted areas up to 5 or 6 times each day.
5. Clear Complexion Foaming Cleanser by Aveeno
Aveeno has been a budget-friendly brand for decades. The Clear Complexion Foaming Cleanser is gentle and can help treat breakouts without drying your skin out. It uses a unique total soy complex that provides you with long-term, healthy and radiant skin. The natural scent doesn't disappoint either.
Pros
Aveeno's foaming cleanser is hypoallergenic and oil-free, so it can be used on most skin types.
It contains salicylic acid, but only a small percentage. It is strong enough to fight that bacteria, but never damage your skin.
Cons
This product should only be used on mild to moderate hormonal acne, since the ingredients are not designed with the strength of some strong treatment-options.
6. Natural Acne Solutions Targeted Spot Treatment by Burt's Bees
For those who suffer from hormonal acne, it can difficult. For some skin-types, using treatment options loaded with chemicals can make your face worse. If you have skin sensitivities, you should try Burt's Bee's spot treatment. This amazing solution is especially great for oily skin-types, and it's designed for acne-prone skin.
Pros
This incredible treatment is 99.9% natural, dermatologist-tested, and non-irritating. The natural, gentle, and effective ingredients include yarrow, calendula, willow bark, and tea tree.
It is gentle but still effective, since you should notice a difference in blemishes within 48 hours.
Cons
You'll have to use this product once in the morning and once at night, so you may want to consider adding a moisturizer into your routine to avoid dryness.
7. The Problem Solver Correcting Masque by May Lindstrom
The Problem Solver Correcting Masque is great for those who don't want to use something every day. The masque is made of incredible ingredients that can reduce inflammation, fade blemishes, and also prevent them. If you're looking for a miracle worker, this is the product to try.
Pros
Ingredients like raw cacao, bamboo charcoal, and other exotic spices work together to fight acne and beautify the appearance of your overall skin.
The masque only needs to be worn twice a week to feel an incredible difference.
Cons
This May Lindstrom treatment is one of the least budget-friendly hormonal acne treatments on the list.
Even though you only need to do it twice weekly, you must mix the powder-masque with water in order to use it.
8. Differin Gel by Differin
Differin Gel is an FDA-approved retinoid that combats every stage of your hormonal acne. It's a leave-on treatment that tends to be more effective because of the length of time it has to work its magic. Differin gives you prescription-grade formulas, but it can be found in most drugstores across the country.
Pros
Even though Differin Gel gives you prescription-strength, it's not over-powering. It is fragrance-free and non-comedogenic.
For decades, this treatment has been effective at preventing (and eliminating) blackheads, blemishes, clogged pores, and breakouts.
Cons
Differin Gel should be used at least once each day for 12 weeks before you notice a significant difference, so it may be hard to use if you're looking for more immediate results.
Summing Up
Hormonal acne treatments can vary greatly and it is essential to choose the option that is best for you. After determining your skin type, what it is your skin needs, and what your main goals are, try one of the great options on this list. Which treatment has worked the best for you?